| | |
| --- | --- |
| | "AndiCon" |

Andicon: The Real Story continued....

Saturday:

My first view of Andi on the Saturday morning was of her crawling toward me. She sat up, grinned, and said...

"Oh look....popcorn!"

Waving a handful of it in my direction. It was *everywhere*. I'd earlier thought that her kitchen floor was sticky, until I looked at my feet...

We sat around talking about nothing until it was time for Andi to ring her boss and tell him she was sick! After that, we started watching videos. The Chronicles vid was first, followed by Friends (The One With the Ick Factor, as if you hadn't guessed. Predicable? Us? Nooo). I decided to go and have a shower. I *hate* Friends, even if it does involve Stan watching. Unfortunately, I was almost responsible for Darran breaking rule number 1!

Once we had all surfaced (including Alis, who arrived about 10:50) we decided on a plan of action for the day...

First: go to Andi's castle to put a note up... 'closed due to sickness'. I've actually visited the castle, but not when Andi was there! Second: hit the town for blue bols (essential ingredient for the Dragon, and we'd run out), ice cream, profiteroles, squirty cream, peanuts and more beer. Third: get back to Andi's without squashing everything. Yes, I was driving again (and hoping that Dumfries and Galloway didn't have a particularly conscientious police force). Darran looked rather pale...

Once we'd arrived back and everything was safely ensconced in the fridge/freezer we all trooped into Andi's room to attack the PC. That's when 'An Experiment from Scotland' was sent to the list. I then showed off the photos on my webpage to John (who is internet deprived at the moment, but doesn't intend to be by Christmas. Be afraid... be very afraid...), and Alis set up her laptop in Andi's bedroom. We didn't actually see an awful lot of each other for the next few hours. I went plotting with Alis (we're trying to collaborate on a fic), Andi was showing the boys some internetty stuff, the cat and James were hiding.

Then we decided we needed a drink.

And something to eat, besides chocolate.

Andi cooks, by the way, and quite well too...

About 19:30 after beer, lasagna and breaking out the ice cream (all 4 tubs of it); not to mention seeing just *how* much we could fit in Andi's cleavage (which was why we bought the peanuts and the squirty cream - enquiring, scientific minds we've got, you see), we decided it was time to see what happened when we mixed the Mule and the Dragon as we only had enough advocaat left for one more Mule. Sorting the crushed ice out was fun as it involved hitting ice cube bags with a hammer and sending bits of ice flying everywhere. Free entertainment and almost as much fun as the

"Oh look...popcorn!"

game. Unfortunately Andi spoiled it by getting out the blender...

So...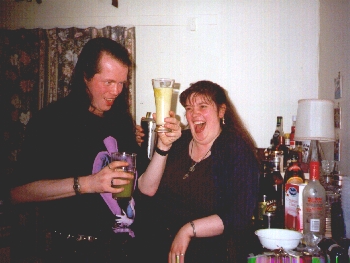 You pour the Dragon and the Mule into a half-pint glass together, stare at it with a very worried expression on your face for a bit (you can almost see the smoke rising off it), then *carefully* dunk about five straws in it, and share. It's veeery nice. And lethal. Extremely Lethal. So Lethal in fact, that it ought to carry a health warning... something along the lines of...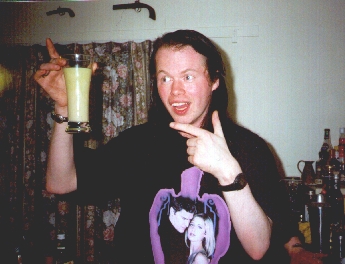 Danger! Do not Drink while Standing up!

(We tried, honest!)

Or even...

Danger! Poisonous to Goths!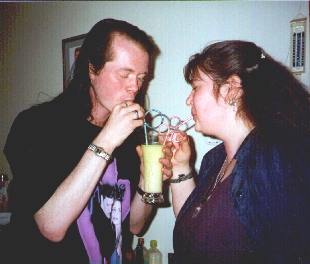 By 20:00 we were *all* dying, John included, and we hadn't even finished the damn thing off. The Dragon's Revenge was born. I nobbled Andi's PC to tell you all the good news, while I could still vaguely manage to see the keyboard. They *made* me leave the typos in ( I still think tupos is something you should drink in Greece and then break your glass...) I always type with loads of mistakes, but usually correct them as I go. Mind you, I don't think it really made that much difference, and it *did* manage to convey the spirit of things *so* well...

After that, we tried to recover while watching Monty Python and the Holy Grail, which again I think we'd all seen at least twice judging by the quotes that came out of sequence...



The Red Larter!



By the time that had finished, we were alive again (sort of) and ready for more Dragons and other dubious cocktails (enter the Red Larter). To suit our state of mind we put the Mystery Science Theatre version of Highlander II on (Highlander - the Sickening). If you've never seen an MST 3000 version of anything, please do try to catch one - they're hilarious. It basically involves this guy and two robots slagging off a movie. Highlander II (non-renegade version) was perfect! Feeling much happier after that, we finally managed to play the Highlander drinking game inventing a category for ourselves... 'if it isn't in there, it should be' - one drink - It was during this that Alis became shockingly inventive, and dangerous... Enter the F##k Knows and F##k Me! Surprisingly enough, it didn't take that long before we *all* died. Even I went to bed.

On to Sunday....